Community Spotlight: Port Angeles Pump Track
Pump Up the Fun at the new Port Angeles Pump Track

This summer, a brand-new Port Angeles Pump Track opened at the Erickson Playfield. This community project three years in the making culminated in a 14,442 sq. ft. pump track, the largest in the Pacific Northwest and the first in the USA to feature an adaptive track.

The ADA accessible design means the course can be enjoyed by all ages with all types of wheels, from bikes and roller blades to kick scooters and wheelchairs. With the new pump track located alongside the recently updated Dream Playground, Erickson Playfield has established itself as a go-to destination for fun in Port Angeles.
Accessible Fun
The idea behind a pump track is to create a rolling course of looping paths where riders gain momentum from the track without having to pedal. That momentum is created through "rollers," or small bumps and hills, and banked turns called "berms" designed to build up speed. Riders also generate extra momentum through up and down body movements called "pumping," leading to the name pump track.
One of the people spearheading the project is Tim Tucker, Project Manager for the pump track as well as for the Parks & Recreation Department for the City of Port Angeles. Velosolutions, a company specializing in developing custom pump tracks, was brought in to facilitate the design and implementation of the new track.
The Port Angeles Pump Track features two separate tracks on the course. On the south side is the adaptive track designed to be accessible to manual and electric wheelchairs, among other adaptive devices. The course is also an easier ride for beginners and young riders.
"Velosolutions developed their first adaptive track for us, which is really special," said Tucker. ""It was important to have that inclusive element. We're really proud to have one of the few adaptive tracks in the world."
On the north side there is a more advanced track which includes a large wooden structure called a wallride. These allow riders more versatility as they maneuver in a parallel position to the wall.
"Being certified by Velosolutions means that our track is eligible to host national and international competitions," explained Tucker.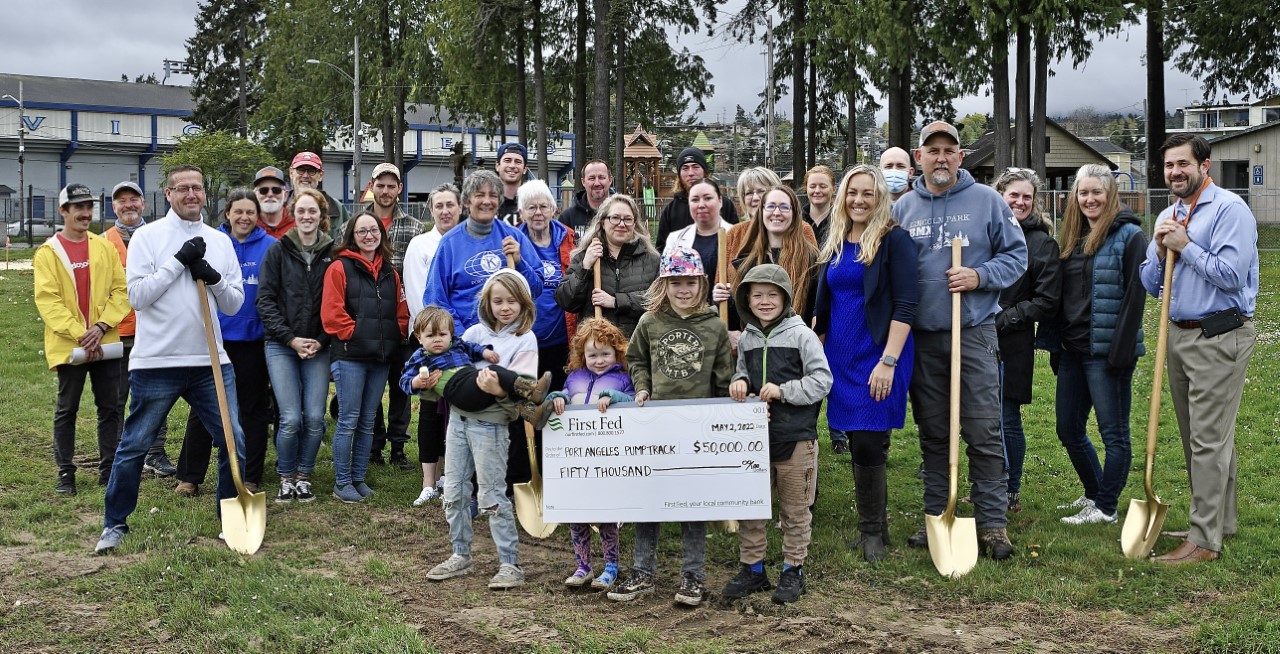 First Fed presents a donation check at the pump track groundbreaking.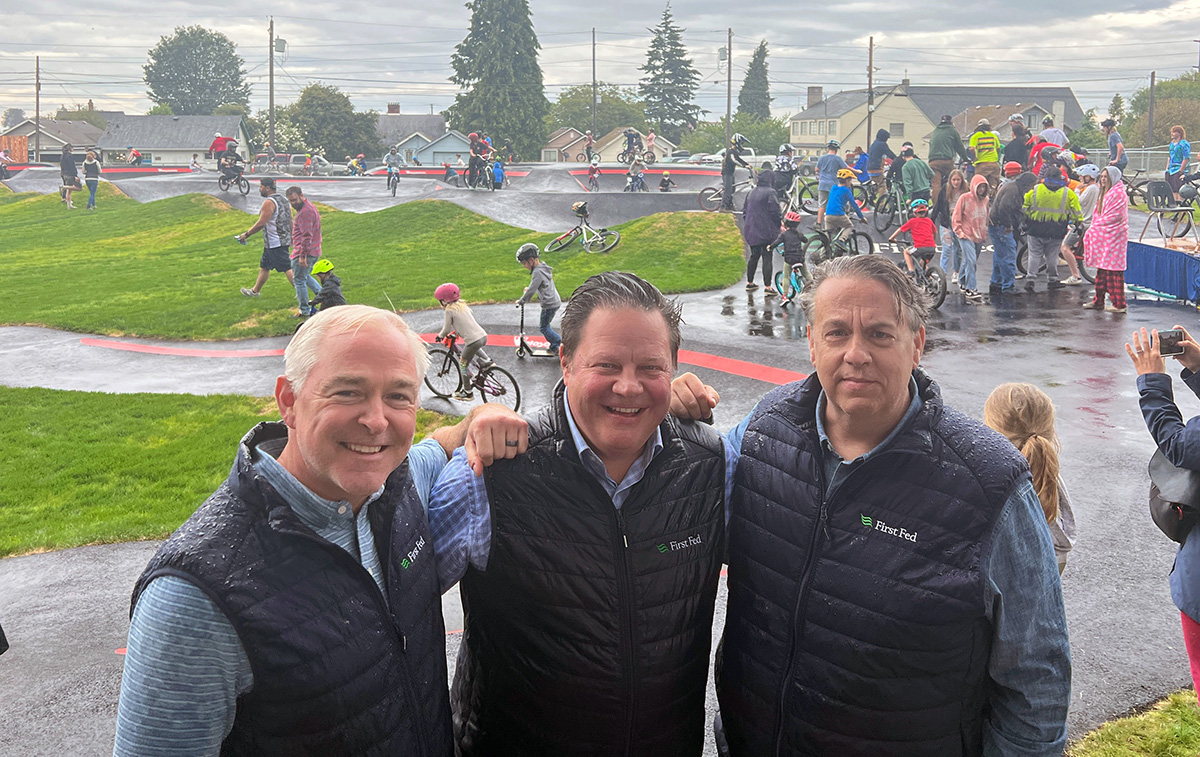 First Fed's COO|CDO Chris Riffle, CEO Matt Deines, and CHRO/CMO Derek Brown celebrate at the pump track opening.
Building as a Community
Because of the ambition and size of the project, to get the pump track built required a ton of community support, public grants, and local sponsorships.
"It's been wonderful to see the community come together to create a space that can be enjoyed by so many," said Tucker.
As the presenting sponsor of the pump track, First Fed presented a check for $50,000 at the groundbreaking ceremony.
"This pump track project shows how much we can accomplish working together as a community," said Matt Deines, President and CEO of First Fed. "First Fed has served the Port Angeles community since we were founded here in 1923. We are excited to celebrate our centennial at Field Hall next year."

"First Fed is a true community partner," added Tucker. "You can tell they are engaged and have an active interest in discussing projects. There have been so many times First Fed has been able to step in to fill a gap and get us across the finish line through volunteer hours and donations."
Hit the Track
The Port Angeles Pump Track is open during park hours, sunrise to sunset, rain or shine. Grab your helmet, load up your wheels, and come down to give it a try. It's enjoyable for all levels of riders!
Erickson Playfield is located at 302 S Race St. Port Angeles, WA 98362.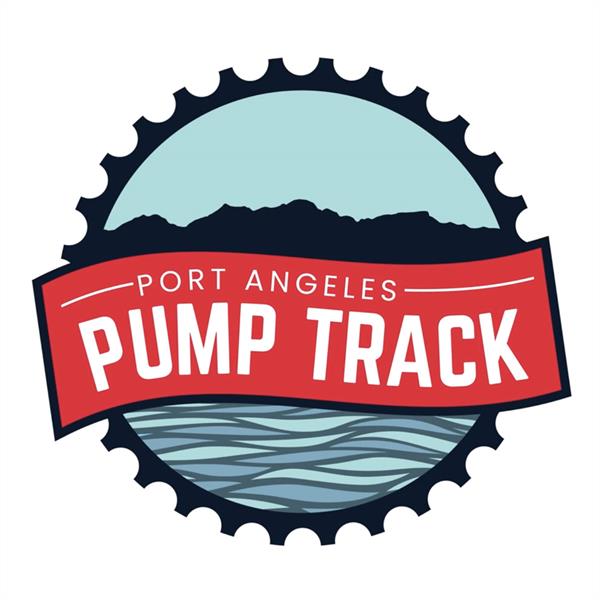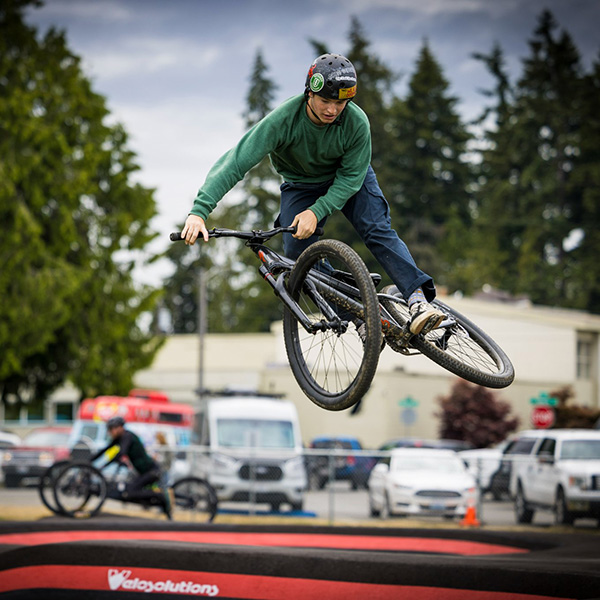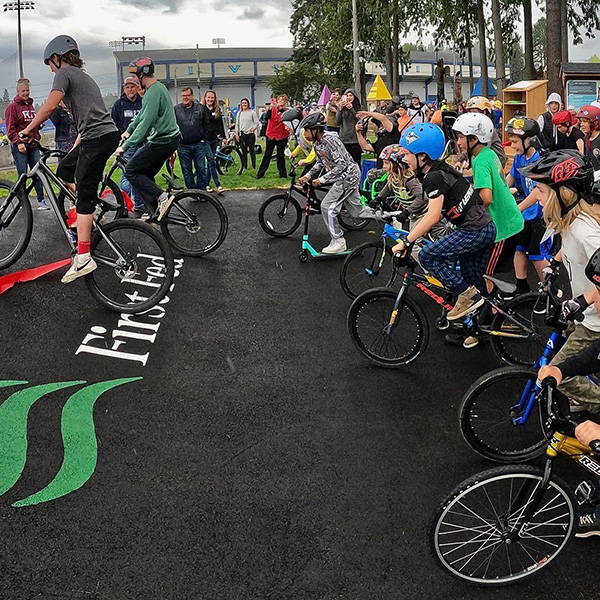 Starting line on opening day of the pump track. Photo courtesy Jay Cline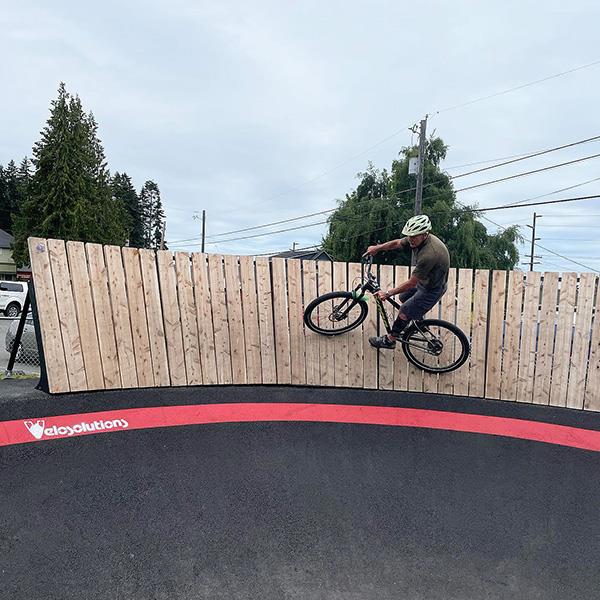 70-year-old "Grandpa John" enjoying the wall ride at the pump track. Photo courtesy Port Angeles Pump Track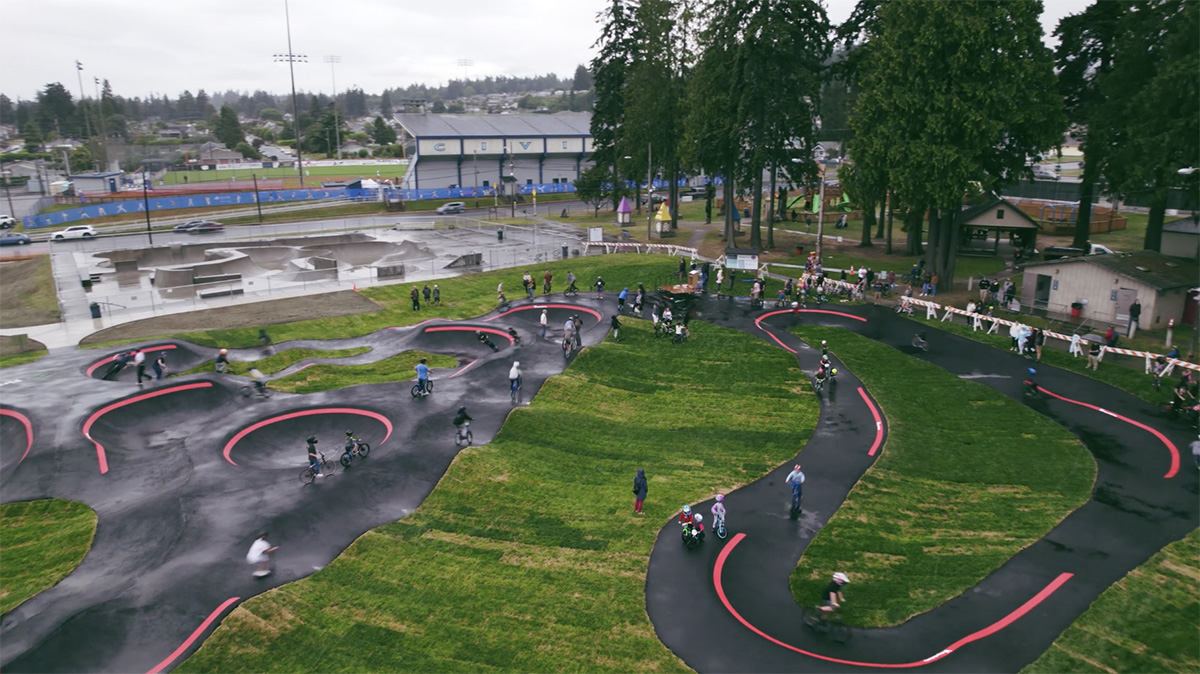 Opening Day. Photo courtesy Port Angeles Pump Track