Business Spotlight: Blue Spirits Distilling
Blue Spirits are a Treat for Any Season
It's the season for spirits – tasty ones! Blue Spirits Distilling believes that spirits are only as good as the water that makes the proof. In their case, the glacial waters of Lake Chelan are essential to their spirits and inspired their business name. The award-winning Blue Spirits line includes a variety of crafted gins, whiskeys, vodkas, rums, and tequilas that provide endless taste combinations and cocktail possibilities. In addition to their signature line, they also create the spirits for Tommy Bahama, bringing a taste of island life to the PNW.
Spirit of the PNW
The distillery was started ten years ago by Jeffrey and Heidi Soehren in their 900 sq ft garage on Lake Chelan in north-central Washington. They increased their notoriety by offering tastings in their backyard cabana. As they outgrew their garage and then further expanded several more times, they continued to pull their water from Lake Chelan, the heart of their product line.
Originally carved out by glaciers, Lake Chelan is a 55-mile-long geological crevice filled with pristine water. In the larger basins the lake reaches depths over 1,500 ft. The low nutrient and phosphorus levels give Lake Chelan its naturally clear body of water.

After sourcing the right water, part of the process is infusing flavors into their spirits. For some of their products they use cold distillation, taking fruits, vegetables, and botanicals through a rotary evaporation process to create clean flavors for their vodkas and gins.
"While I love all of our cocktail creations, I particularly enjoy our gins," said co-owner Heidi Soehren. "Our Ghost Gin, Blue Wind Gin, and Tommy Bahama Island Gin are all gold medal winners and excellent in a martini or gin and tonic, where the flavors come through and stand on their own."
Kindred Spirits
During the pandemic, Blue Spirits needed to remodel their main tasting room and restaurant to provide more exterior seating to meet outdoor and social distancing requirements.
"We needed an SBA loan and First Fed had the best offering," said Soehren. "It's been a pleasure working with the First Fed team."
Recently, First Fed partnered with Blue Spirits to offer a signature cocktail at the grand opening of their Bellevue Business Center. The drink was named "Moss Wall" as an homage to the moss walls that can be found in their Pacific Northwest themed branches.
"The Moss Wall was a big hit," said Jason Gill, Commercial Relationship Manager at First Fed. "It's been wonderful collaborating with Blue Spirits to help grow their business."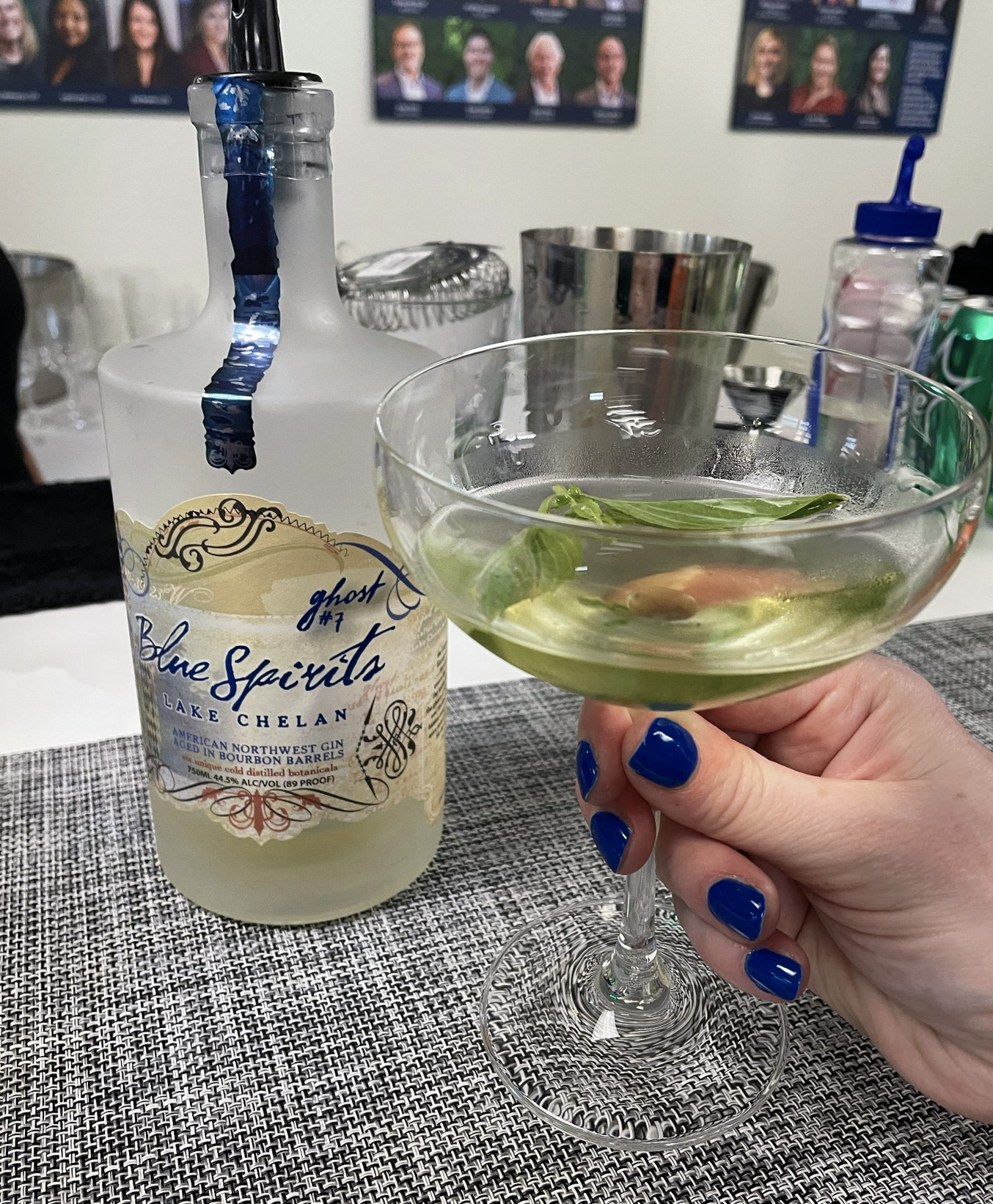 Enjoy the Moss Wall at home!
Moss Wall
2 oz Blue Spirits Ghost Gin
0.75 oz Lime Juice
0.5 oz Simple Syrup
Fresh Basil (3-5 leaves per serving)
Add the gin, lime juice, and simple syrup to shaker with plenty of ice. Shake and strain. Garnish with fresh basil leaf.
Get In the Spirit
The Blue Spirits tasting room is located right off Highway 2 in Leavenworth, a quant Bavarian-style village nestled in the Cascade Mountains. Not only can you sample their spirits and try an array of unique cocktail creations, but they also have delicious eats to pair with your drinks in both indoor and outdoor settings. Kids and dogs are welcome!
To satisfy more adventurous palates, Blue Spirits created a Cocktail Club. Four times a year, subscribed members receive a box containing award-winning spirits, craft mixers, bar tools or glassware, and some cheeky cocktail cards. Each box has a particular drink theme it celebrates.
Blue Spirits strives to create the finest spirits possible so they can fill your bar with the most flavorful, smooth craft liquor. You can order their spirits online or find tasty cocktail recipes at www.bluespiritsdistilling.com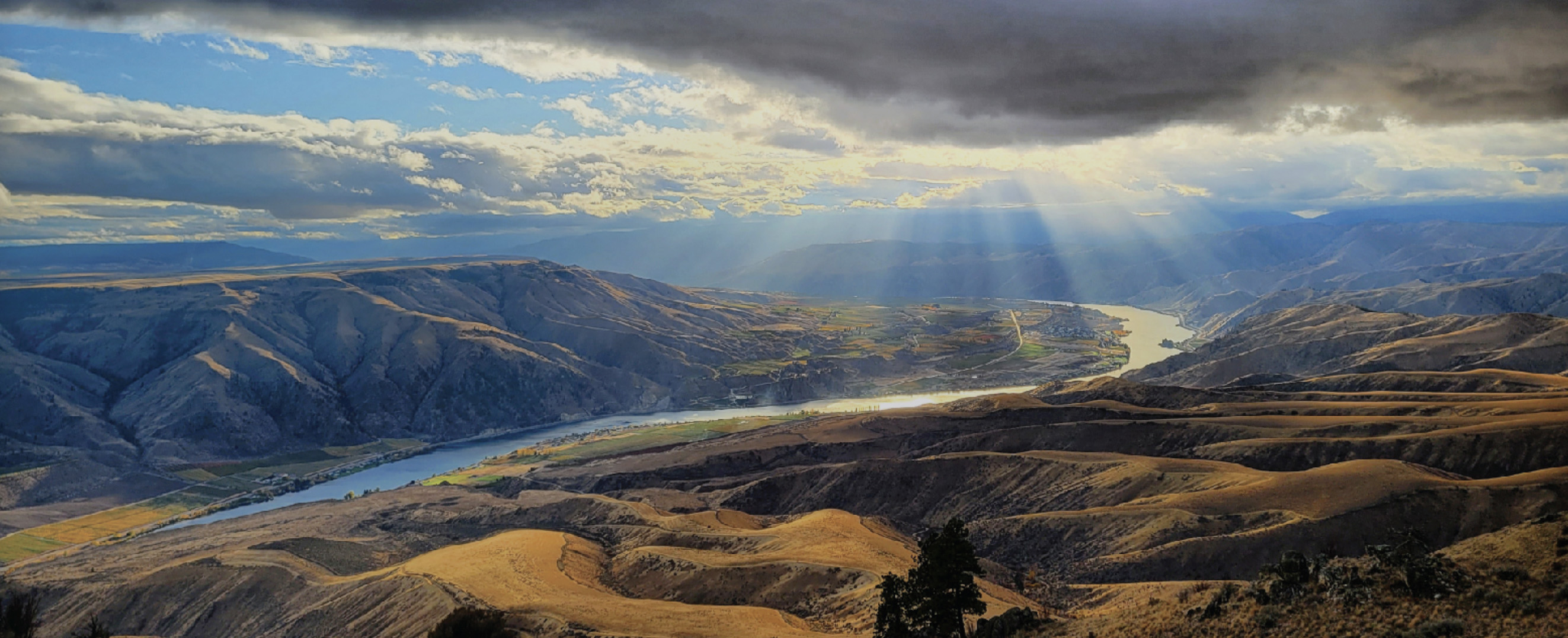 Lake Chelan in central Washington, where Blue Spirits Distilling sources clear water for their spirits.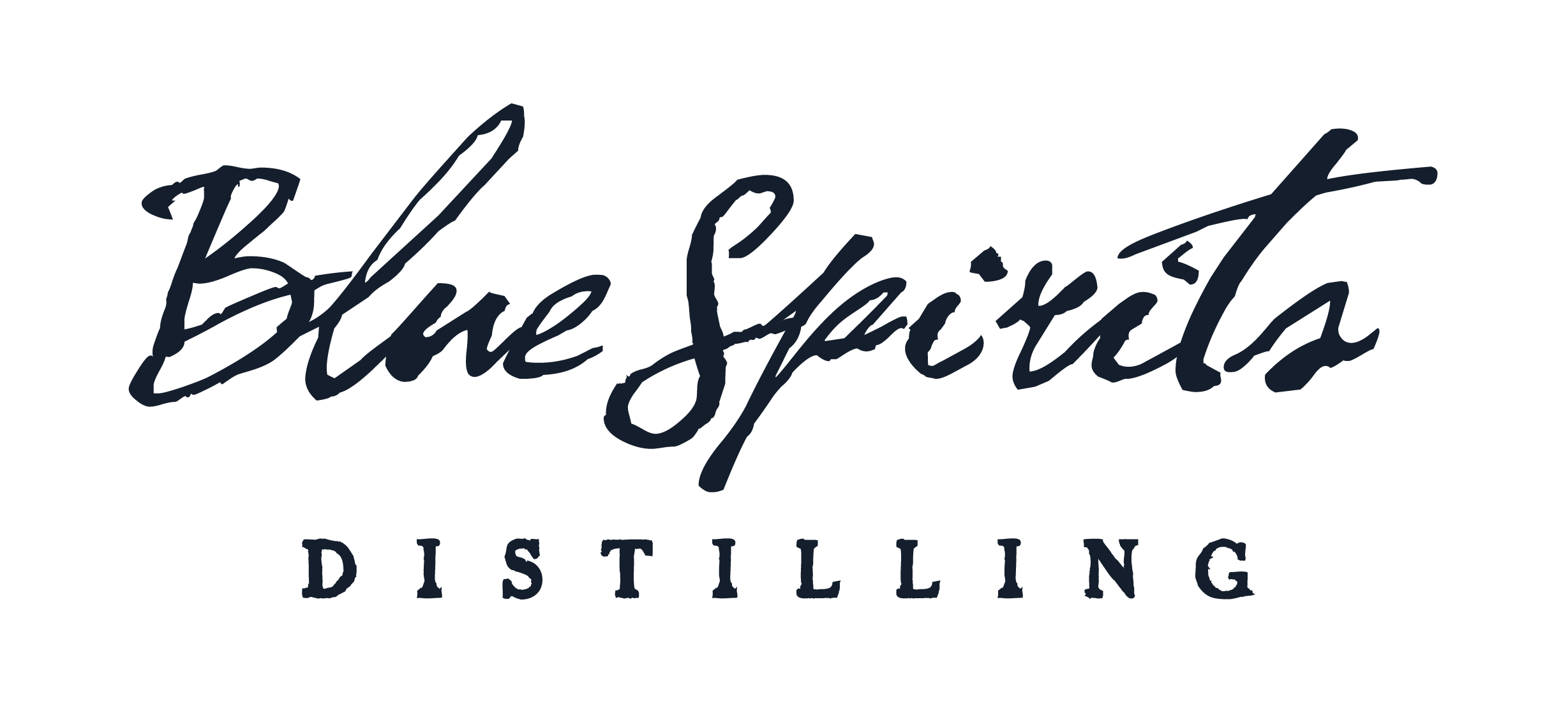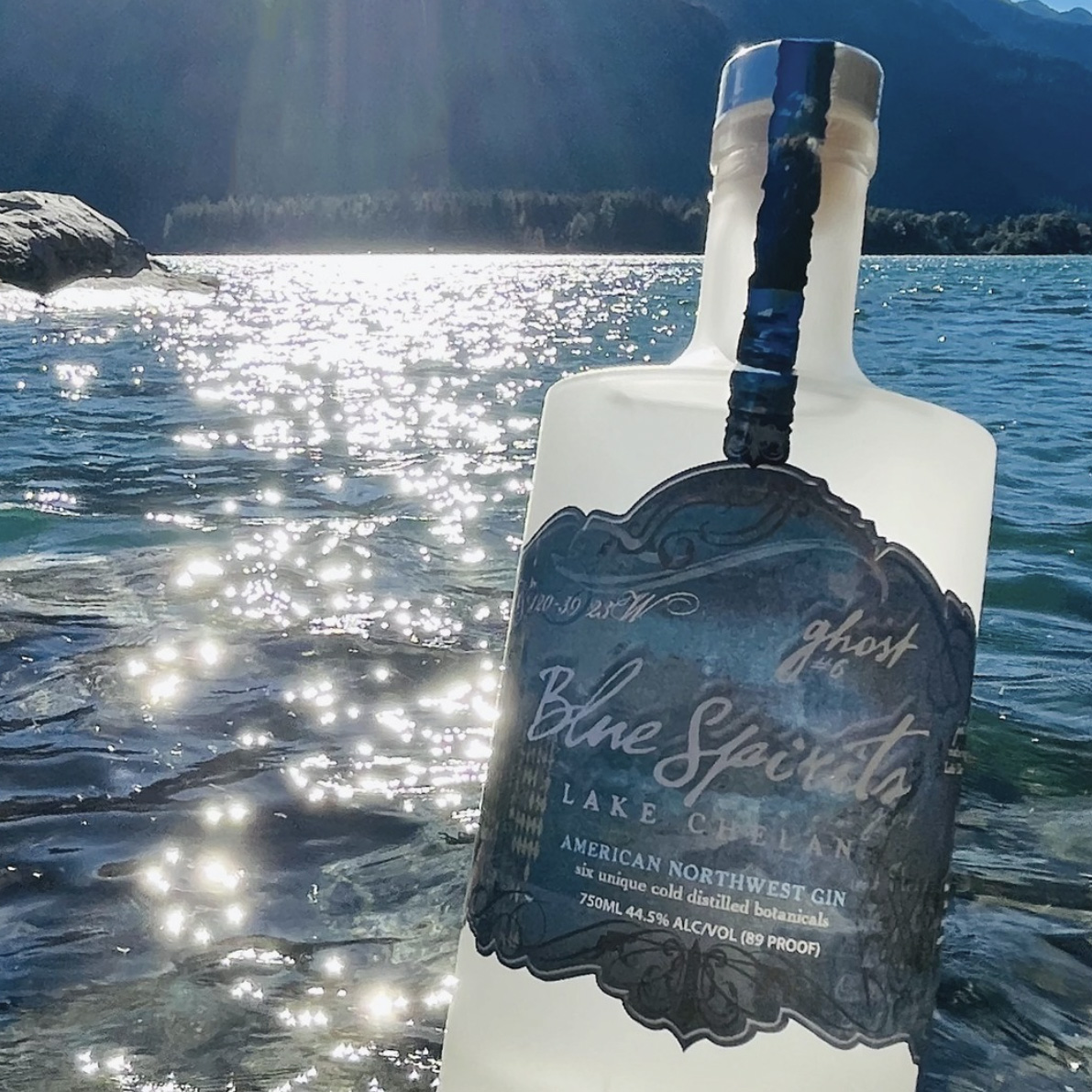 Distillery and Restaurant
Leavenworth, WA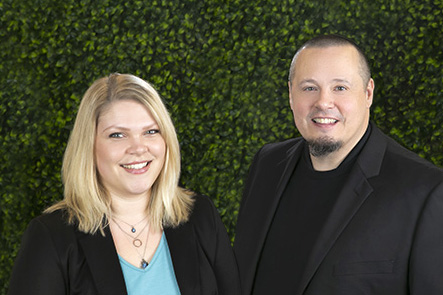 Meet with our commercial banking experts to review your goals, discuss your options, and deliver financial solutions quickly.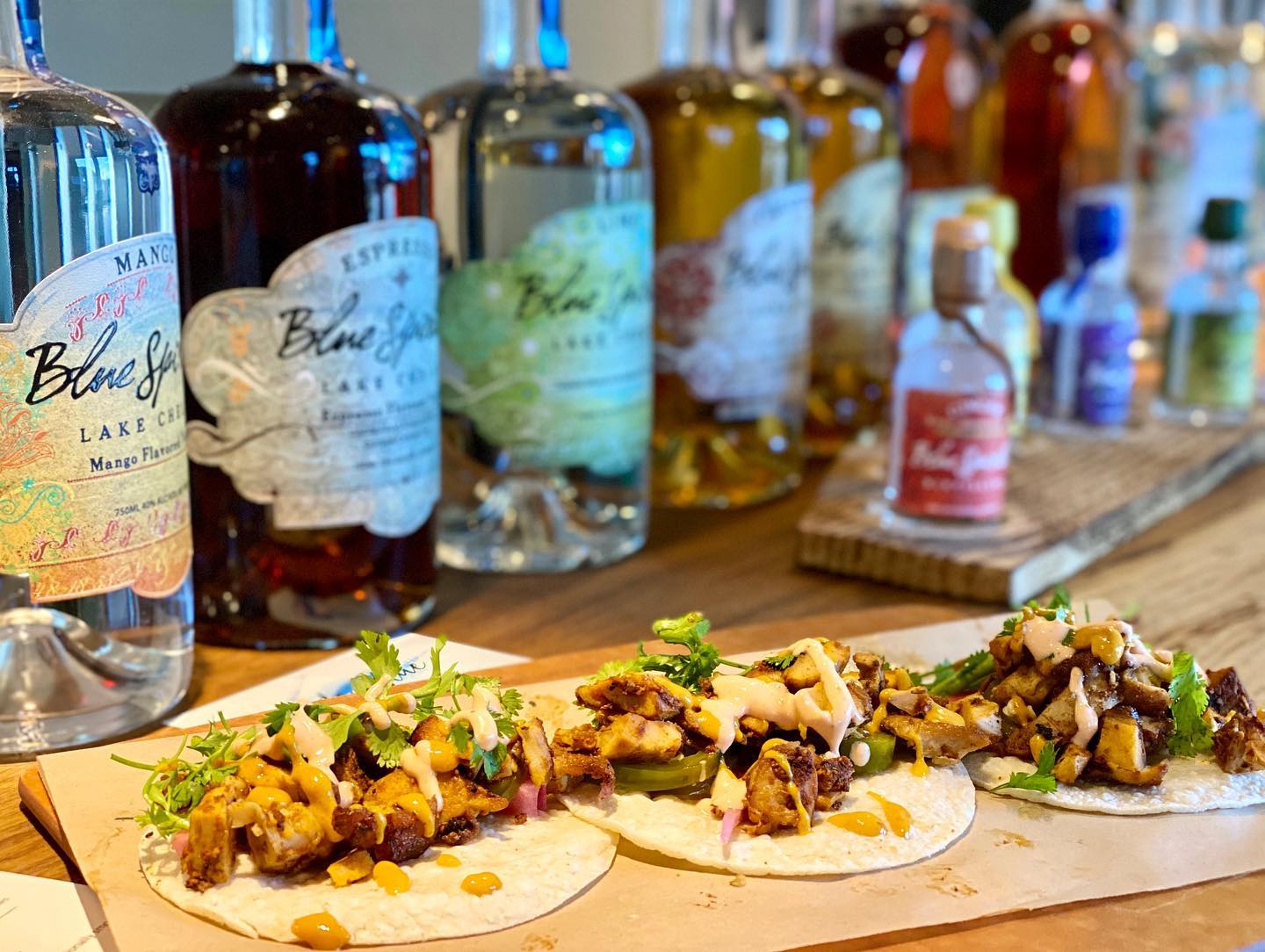 The restaurant at Blue Spirits Distilling offers tasty fare to pair with your cocktails.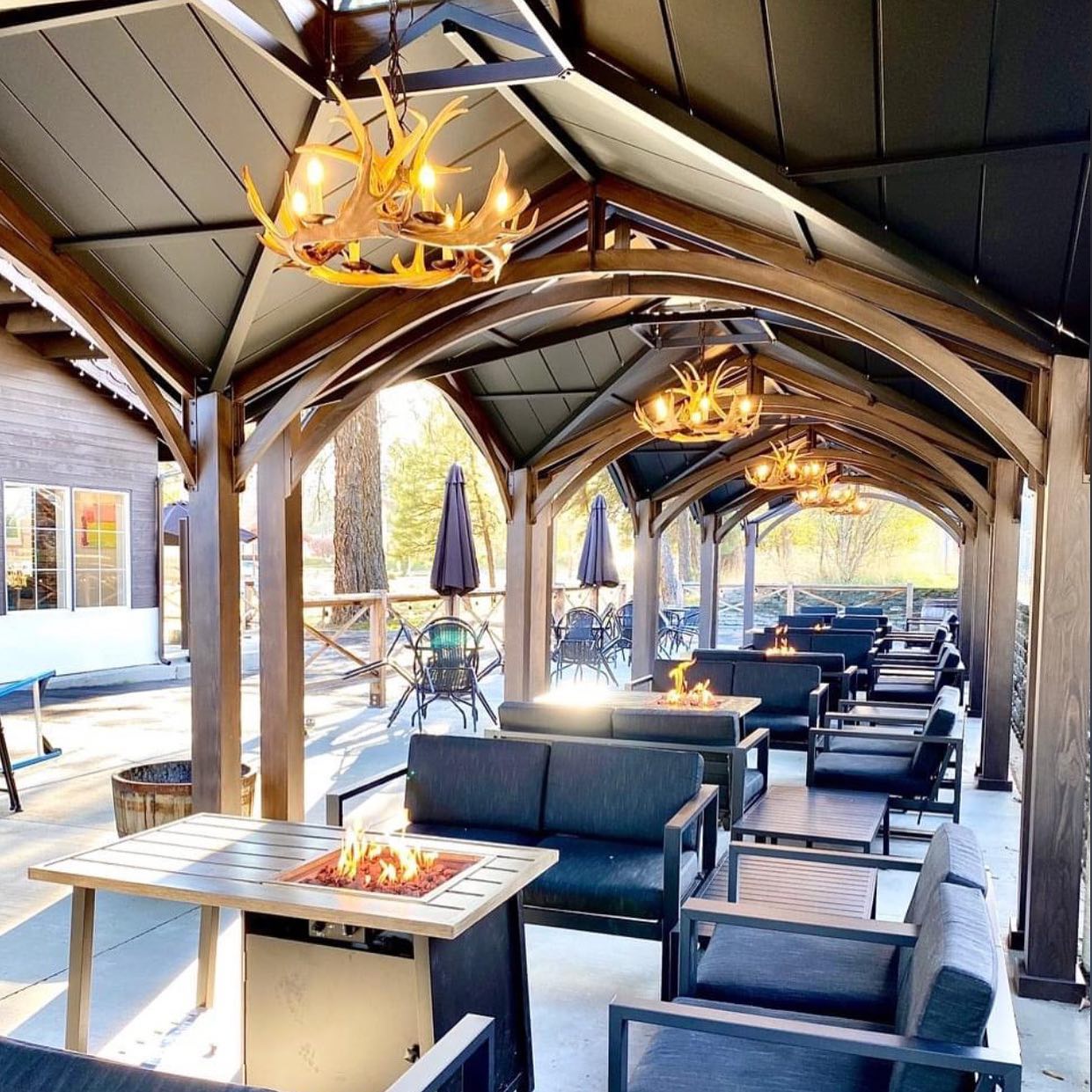 Expanded outdoor seating area at Blue Spirits Distilling.